Lift-Top Magnet Seal Window Counter Mats
Interchangeable Lift-Top Counter Mats • Retail Advertising Display Magnetic Insert Counter Mats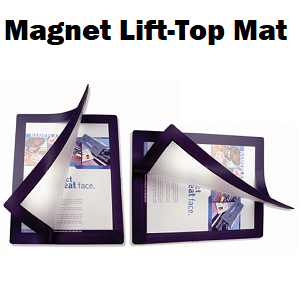 Our Stock Magnet Lift-Top Interchangeable Window Counter Mats are a durable commercial-grade counter top display product. These mats have a 1" black border (no imprint). They feature a lift-up top and making it easy to place one large insert or multiple smaller inserts. The top is permanently bonded along one edge and the other three edges have a magnet strip flush with the entire edge and around the corners which strengthens and protects them. Available in 3 size options: The 10.5" x 13" mat is designed to hold an 8.5" x 11" insert. The 13" x 19" mat has an 11" x 17" window for one large insert or two 8.5" x 11" inserts side by side. Our new 7.5" x 10.5" mat will hold a 5.5" x 8.5" insert.
Stock Magnet Lift-Top Countermat Features:
Lift-Top mat style
Easily insert customized graphic or poster
Durable, scratch resistant surface layer
1/16" Heavy Duty rubber base
3 size options: 7.5" x 10.5" • 10.5" x 13" • 13" x 19"
Available colors: Black and Blue
Fast 3-4 day production time
Stock and custom inserts available
Options
SURFACE:
Clear PVC (Matte Finish)

BASE:
Heavy Duty Rubber (Stock)
Economy Medium Duty Rubber (Custom)
THICKNESS:
1/16" (Stock)
1/8" (Custom)
SIZE:
Stock: 7.5" x 10.5" • 10.5" x 13" • 13" x 19"
Custom: 10"x15" • 11"x17" • 12"x17¾" • 12"x18"
13"x19" • 14"x19" • 16"x20" • 17"x26"
Additional sizes available
IMPRINT METHOD:
Standard Offset • 4-Color Process
Standard Offset • Spot Color (PMS)
Digital Offset • 4-Color Process
Printed directly to underside of plastic surface
Stock colors: Black and Blue (PMS 280)
WINDOW PLACEMENT:
Windows may be configured to insert from any side. Multiple windows and custom window sizes/shapes are available. Stock Magnet Lift-Top Countermats have magnetic strips on three sides and are sealed on the fourth side. Magnetic strips on the base and surface hold the window closed.

Stock Magnetic Edge Window Countermat Pricing

| Mat Size | Window Size | Item/QTY | 5-9 | 10-19 | 20-29 | 30+ |
| --- | --- | --- | --- | --- | --- | --- |
| 7.5" x 10.5" | 5.5" x 8.5" | MEWC-MP | N/A | Call | Call | Call |
| 10.5" x 13" | 8.5" x 11" | MEWC-SM | 11.50 | 11.00 | 10.50 | Call |
| 13" x 19" | 11" x 17" | MEWC-LG | 15.55 | 14.55 | 13.55 | Call |

Call For A Custom Quote With Quantity Discounts

MEWC-SM:
MEWC-LG:

---
Magnetic Counter Mats
Custom Printed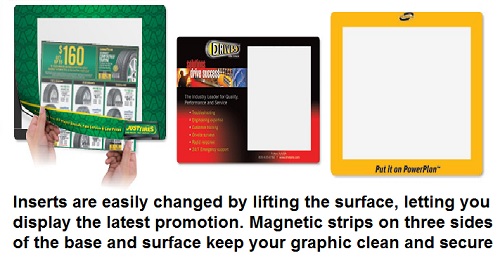 Interchangeable Magnetic Window Countermats
Our versatile interchangeable Magnet Countermats will keep your important information viewable, organized, and safe from daily elements that could be damaging...one counter top mat does it all. Subsurface printing ensures your image will remain vibrant and untarnished, while our unique magnetic-frame construction keeps contents clean and in place. Available in Magnet See-Thru / Lift-Top Countertop Display and Magnet Sealed Slide-Thru Window versions.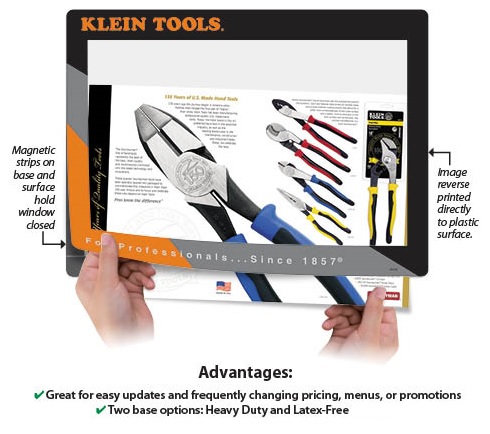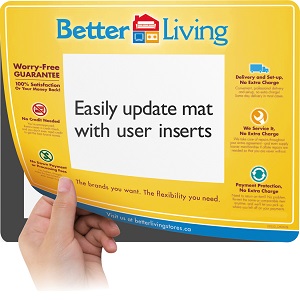 Counter Mats - Great quality and durability for your Point-of-Purchase needs!
A special scratch resistant surface provides great durability to extend the life of your Point-of-Purchase countermat investment. Your design is permanently printed to the underside of the surface to keep your message from fading and a natural rubber base is utilized for non-slip performance. With our customizing abilities, you have the freedom of creating an amazing advertising medium with brilliant full color process. We can create any size or shape to meet your needs.
Magnetic Edge Lift Top Counter Mats
Custom Sizes Available

Want to display promotional ads to your customers? Interchangeable Window Countermats by WindowMats.com make an effective and attractive countertop display. We can custom print your company's logo and promotional message on the countermat surface. Call or e-mail us for details.