Retail Store Counter Mat • Retail Window Mat
Retail Insert Counter Mat • Insert Advertising Into Counter Top Pad • Change Ad Poster In Retail Store Display As Needed
Retail Counter Mat - Stock (No Logo)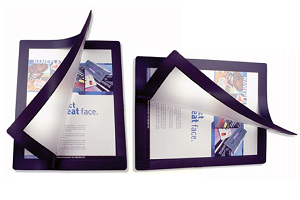 The ultimate in interchangeable counter top advertising. Our Stock Window Counter Mat allows removable inserts to be easily and quickly updated with the latest advertising or product specials. Great for convenience store, auto parts stores, restaurants, or any point of purchase location. It can be easily updated with the latest marketing ads or information sheets, simply by inserting a new graphic. These mats are in-stock and ready to ship.
Stock Retail Window Countermat Features:
Lift-Top & Slide-In mat style options
Easily insert customized graphic or poster
Durable, scratch resistant surface layer
1/16" Heavy Duty rubber base
3 size options: 7.5" x 10.5" • 10.5" x 13" • 13" x 19"
Available colors: Black and Blue
In-Stock and ready to ship
Stock and custom inserts available
Retail Counter Mat - Custom Printed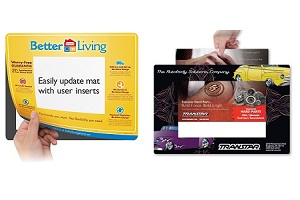 Slide-In Window Counter Mats offer the ultimate in flexibility. Sealed on three sides, one edge is left open for insertion of ad messages, photos, calendars, sales sheets, posters, or other graphics. These durable counter top pads protect the counter surface, drive impulse purchasing decisions, build on existing promotions, and are an effective, inexpensive way to display your marketing message. Custom window locations available.
Custom Retail Window Countermat Features:
Lift-Top & Slide-In mat style options
Easily insert customized graphic or poster
Durable, scratch resistant surface layer
1/16" & 1/8" Heavy Duty rubber base
8 standard size options
Full-color custom printing
Fast 7-10 day production time
Stock and custom inserts available